Regis Aged Care Women's Classic Fun Run
5km & 10km
Regis Aged Care Women's Classic Fun Run
Regis Aged Care Women's Classic Fun Run

10km & 5km
Date: September 12, 2021
Start: WAMC Club Rooms
Finish: WAMC Clubrooms
10km Start Time: 8.00am
5km Start Time: 8:20am

Click HERE for the live leaderboard results!

This community event is conducted by the West Australian Marathon Club Inc. with the proceeds being donated to Breast Cancer Care WA.
Our aim is to promote the sport of running. Participants have the option of a 10km and a 5km event. This option has been designed for those who want to be part of the great community event but feel 10km is too far. It is ideally suited for walkers or the very young with their parents.
Thank you to Regis Aged Care who are our major sponsor for this event. Regis Aged Care's sole focus has always been providing high quality aged care services.
RACE DIRECTOR
Steve Harling 0408 941 839
Online registration for Special Events close the Thursday before the event @ 12.00 noon. Unfortunately no late registrations can be taken due to electronic timing chip allocation.
Online registration for Club Events close the Friday before the event @ 12.00 noon. On the day registration is available for Club Events at an increased price (applies to non-members only) to accommodate for the manual processing that is required.
** Please note that if the Friday before the event falls on a Public Holiday, registration will close the Thursday before the event. **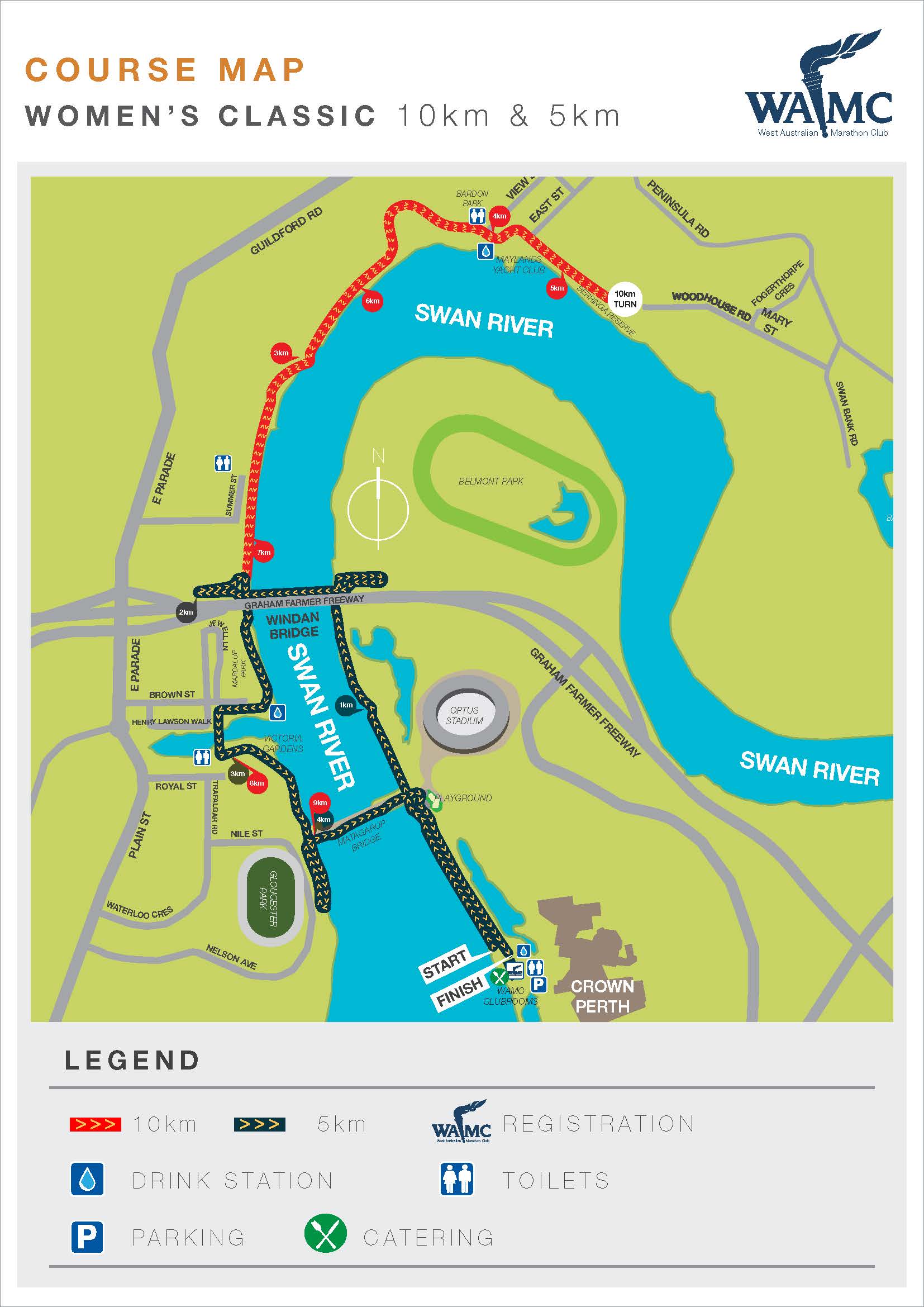 Bib collection and the Event Expo will be available on the following dates: Saturday, September 11 at the WAMC Club rooms between 11:00am and 2:00pm. Registrations close Thursday, September 09 at 12:00pm noon sharp. We will have some amazing exhibitors attending the Women's Classic Expo so be sure to enjoy a walk around and see what they all have to offer! Exhibitors include: Sunwise Keep on Running Fancy Plants Thermomix Lenx Candles Jungle Body Maxi Block Natuva Regis Breast Cancer Care WA Tupperware & more!
All registered participants in the event will be recorded by an electronic timing system on crossing the finish line. Disposable timing chips are attached to the back of the race bib. Do not remove or peel the plastic timing devices from the race bib. Attach the race bib to the front of the body only, by pinning the bib in the holes at the four corners. Please make sure that the race bib is kept flat and not folded or crumpled. The race bib is allocated to the person nominated on the entry form and is non-transferable to another person. The race bib must remain in its issued form. IF YOU TURN UP WITHOUT YOUR RACE BIB (LOST OR LEFT HOME) THERE WILL BE A $10.00 SURCHARGE TO HAVE ANOTHER RACE BIB ISSUED.
The Regis Aged Care Women's Classic 2021 will be followed by a CHAMPAGNE BREAKFAST! 🥂 Get your friends and family together for a fun filled morning supporting Breast Cancer Care WA. Starting with a warm up with the girls from Jungle Body, followed by a 10km or 5km Run (or walk!) and finished with a light champagne breakfast! The first 600 registered participants will receive a 2021 Women's Classic Champagne glass (filled with Calneggia Family Vineyards Prosecco!) to keep and a light breakfast after the event. All participants registered after the first 600 will receive a non-printed glass filled with Prosecco.
The awards presentation will be held at the WAMC Clubrooms at appox. 9:30am Trophies will be awarded to: 10km : 1st Female 2nd Female 3rd Female 1st U16 Female 5km: 1st Female 2nd Female 3rd Female 1st U16 Female
Entrants must not take pets on the run. Skateboards, roller-skates / rollerblades or similar devices, are strictly forbidden due to the risk of injury to participants. Be aware we may not have exclusive use of some of the shared paths. All runners will assemble in the advised start area by foot and obey Police and Officials' directions whilst awaiting the official start. To ensure your safety and that of everyone else in the race, the use of headphones or any musical device is strongly discouraged. Any use of headphones is a safety hazard since such use may compromise a participant's ability to hear critical safety and/or directional instructions, especially instructions that may arise in an emergency situation. There are no prizes for running prams and we request all those pushing running prams not to be competitive, start from the rear and enjoy the experience. Pushing through runners could lead to injuries. Dehydration can be potentially lethal, particularly if you overextend yourself in hot and/or humid conditions. However, your body can still overheat even if climatic conditions are only moderate. Ensure you drink plenty of water throughout the day prior to the event and drink early in the event before you become thirsty. Stop to walk or at least slow down at drink stations to allow adequate rehydration. DO NOT compete if you have had diarrhoea within 48 hours prior to the event or are suffering from a viral infection or even feeling unwell. REMEMBER to also drink plenty of water after the event. If you feel distressed, disorientated, dizzy, or excessively tired, SLOW down or rest for a while. If you do not improve WITHDRAW.
By just finishing the 10km or 5km event and attending the awards ceremony, you are eligible to win some fantastic draw prizes. Your attendance (not someone else holding your race number) is necessary to qualify.
Entrance Fees
5km

| | |
| --- | --- |
| Member U18 | $15.00 |
| Member | $25.00 |
| Non-member U18 | $20.00 |
| Non-member | $35.00 |
10km

| | |
| --- | --- |
| Member U18 | $20.00 |
| Member | $35.00 |
| Non-member U18 | $25.00 |
| Non-member | $45.00 |